British shores and Celtic heritage
on Le Bellot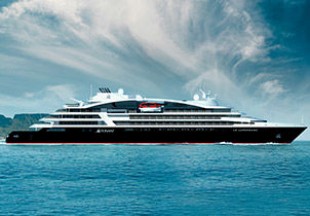 PONANT invites you aboard Le Bellot for a 9-day cruise to discover the British and Irish treasures along the coastlines of the Channel and the North, Celtic and Irish seas.
Your journey will start in London, the cosmopolitan capital of the United Kingdom, at the heart of global trade and rich with historical heritage and exceptional avant-garde art. Fall in love with this city, a concentration of all things British, enhanced by cultural influences from around the world.
After calling at Cowes, on the Isle of Wight, Le Bellot will sail to Penzance. With its moor landscapes and its beaches of white sand, this small seaside resort at the tip of Cornwall is reminiscent of Brittany.
Next port of call, Fishguard. This small coastal town in South Wales will offer you a peaceful stop between lush valleys and heather-covered landscapes. This town with a rich historical heritage was once a Viking trading post.
You will also discover Liverpool, a former industrial powerhouse, today completely redeveloped, located on the banks of the Mersey and famous as the birthplace of the Beatles.
Le Bellot will then sail to Dublin. The Irish capital, distinguished by UNESCO for having inspired some of the greatest authors since the 19th century, will win you over with its authentic charm and its convivial atmosphere.
During your stopover in Belfast, you can visit the Giant's Causeway. This massive geological formation is a UNESCO World Heritage Site and features over 40,000 basalt columns.
Your cruise will come to an end in Fairlie, a charming village on the west coast of Scotland, looking across to the Isle of Arran.
Why choose Ponant ?
A French crew, expertise, attentive service, fine dining and more. Within a fully 5 star setting, we take you to discover exceptional destinations while offering you a travel experience that is both authentic and high end.
Travelling the French way
As the only cruise company sailing under the French flag, PONANT is an exponent for the French way of life across every sea on the globe. On board, this is translated through ex
...