PAULINE CHURCHILL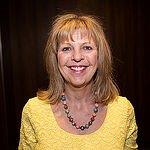 Pauline was born and raised in Surrey, England. She has also lived and worked in Bahrain for five years and has traveled the Middle East before coming to the US and settling in Allamuchy in 1990. She had a background in Hotel Management before becoming a travel consultant twenty years ago.
She has been with Skyland World Travel since our opening in 1995. Along with her extensive travel experiences in Europe, she has also enjoyed travel to India, Hong Kong and the Caribbean to name just a few of her favorite destinations.
She is an Specialist on Adventure Travel and in October 2014 she trekked in Nepal to Everest Base Camp, over 17 days- staying in teahouses and gradually acclimatizing and gaining altitude every day. It was a trip of lifetime.
On July 2015 She climbed Mt. Washington in New Hampshire and she is looking forward to many more treks. She also enjoys planning customized trips to Europe. Pauline loves the great outdoors and is constantly thinking of the next exciting adventure she can undertake.
JILL STROUD VITALE
Jill has enjoyed traveling to many different countries and across the US for many years, and has some extensive tips and ideas for cultivating the perfect trip for you. She was born and raised in Tennessee, but has lived in South Carolina and Staten Island, New York where, thirty years ago, she met her husband. She then moved to New Jersey in 1989 and settled here in Long Valley with her husband in 1997.
Jill has enjoyed traveling to most of the Caribbean Islands, via many cruise lines and land, but her favorite island is Aruba, where she is an ArubaCertified Expert. She is also certified in St Lucia and Jamaica. She and her husband have travelled many times to Cancun, Playa Del Carmen and Riviera Maya, Mexico. However, her favorite trip has been touring Italy visiting Rome, Florence, Venice, Sicily and the Amalfi Coast, and looks forward to a return trip to the North of Italy. Jill can help you plan your next European Tour, and is a Tauck Tours specialist.
She has also cruised the Adriatic Ocean aboard the Celebrity Silhouette and is a Celebrity 5 Star Academy graduate. Here in the U.S., her travels toFlorida have led her to become a certified Universal Studios Travel Agent, as well as Disney Certified. Need ideas for trips to
California, Arizona, the Grand Canyon, New Orleans, Lake Tahoe? She can help!
Her true passion is traveling and helping others create a customized, seamless vacation experience no matter where their heart desires to go.